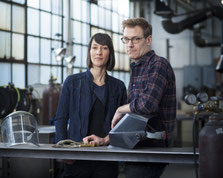 Manifold was conceived by Ross and Elizabeth Fiersten to engage in the ongoing conversation occurring between art and design, makers and manufacturers.
Located at 4426 N Ravenswood Ave in Chicago, Manifold houses a storefront gallery and a manufacturing workshop.  The direct connection between the gallery and the workshop reinforces Manifold's guiding mission: to overtly preserve the link from the object presented to the process of its crafting. 
In addition to producing furniture and sculpture on-site, Manifold occasionally features gallery exhibitions and events highlighting contemporary artists and designers. 
Ross and Elizabeth have been designing and building furniture and art in Chicago for over fifteen years. 
MANIFOLD is open to the public during exhibitions on Fridays 12-6pm, or by appointment: 773.754.7186