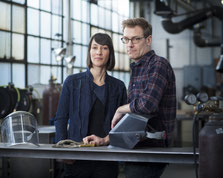 Manifold was conceived by Ross and Elizabeth Fiersten to engage in the ongoing conversation occurring in Chicago between art and design, makers and manufacturers.
Located at 4426 N Ravenswood Ave in Chicago, Manifold houses a storefront gallery and a manufacturing workshop.  The direct connection between the gallery and the workshop reinforces Manifold's guiding mission: to overtly preserve the link from the object presented to the process of its crafting. 
In addition to producing furniture and sculpture on-site, Manifold features gallery exhibitions and events highlighting issues pertinent to contemporary artists and designers. 
Formerly known as metal+works, Ross and Elizabeth have been designing and building furniture and art in Chicago for over a decade. 
MANIFOLD is open to the public during exhibitions on Fridays 12-6pm, or by appointment: 773.754.7186