MERE OBSERVATION
new work by Jeff Austin & Angeles Cossio
The processes of human perception are swift and complex – sifted, for the sake of their efficacy, through a system of unconscious abstraction. Much of the sense data absorbed is promptly discarded, deemed insignificant – inessential for the moment's utility. With a pause – a closer inspection – a new set of truths is discovered, brought to life at the will of the observer. In this way, the observer becomes an inseparable component of the system being observed, transforming its principal structure through mere observation.
Mere Observation is the second of two exhibitions featuring artists selected by Manifold from the ACRE Residency Program.
ACRE (Artists' Cooperative Residency and Exhibition) was founded in 2010 with the ambition to provide the arts community with an affordable, cooperative, and dialogue-oriented residency program.
February 15, 2013 - March 15, 2013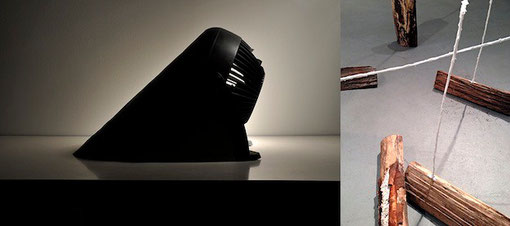 left: Angeles Cossio, Shadow Fan, Digital Print, 16 x 24", 2013
right: Jeff Austin, Almost Hardly Ever, Mixed-Media Installation, Variable Dimensions, 2013
JEFF AUSTIN lives and works in Chicago, currently studying for a BFA in Sculpture at the School of the Art Institute of Chicago. His practice revolves around a persistent attempt to find reconciliation between the disparities in his relationships to urban and natural spaces, using collections of the various detritus found in each environment as a material base in the construction of sculpture and site-specific installation. He has recently shown with Make Space at MDW Fair as well as a solo exhibition at Anatomy/Gift/Association. In the past year, he has completed residencies at both ACRE and the Mormyrid Artist Residency.
More information about Jeff Austin can be found at jeffaustin.tumblr.com.
ANGELES COSSIO in her recent photographic work has been drawn to visual disruptions that call into question the nature of observation and the camera's ability to convey reality. The works hint and tease at but never deliver a fully realized image. The very act of hiding and blocking can be transformative; it is in this place of disruption where she is seeking her imagery. Angeles received her undergraduate degree in painting from Buffalo State, the State University of New York and her MFA from Montclair State University. She is currently based in Lincoln, Nebraska, where she is a Visiting Instructor of Art at Nebraska Wesleyan University where she teaches photography and digital media. Her work has been exhibited internationally, most recently at the Sheldon Museum of Art, Access Arts, and the Bemis Center for Contemporary Art. This summer she completed residencies at both ACRE and The Land. She also co-runs Drift Station an experimental curatorial platform.
More information about Angeles Cossio can be found at www.angelescossio.com.