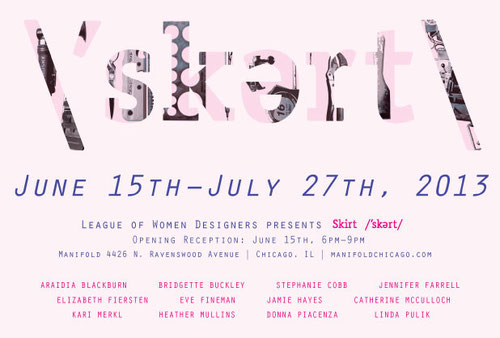 The League of Women Designers Chicago presents SKIRT, a group exhibition showcasing a cross-section of the latest work of its members from allied design fields, while highlighting various approaches to a single word, Skirt. 
Curated by Bridgette Buckley & LWD Chicago
Exhibition essay by Lauren Viera
LWD presented two panel discussions hosted by Manifold featuring leading members of the design community, programmed to cultivate pertinent and timely dialogue in association with Skirt.  
The first in the series: Saturday June 29th, 2pm
Skirting the Boundaries of Design - Conversations around artistic and design practices that exist at the periphery of conventional boundaries.
Panel Guests:
Gillian Rode – Program Manager, Product Development at MINIMAL
Erika Horigan – Co-Owner of Horigan Urban Forest Products
Meegan Czop - Director of Business Development at Rebuilding Exchange
Sara Black - Artist, teacher, arts organizer and curator
*Moderated by Kari Merkl
Closing and Panel Discussion:  Saturday July 27th, 2pm
Design & Craft / Hands-on & Digital - Discussions exploring the contemporary intersection of making, process and product.
Panel Guests:
Maria Boustead – Owner of Po Campo
Carly Cannell – Founder of Weetu
Sharon Burdett – Co-Owner of Strand Design
Gina Panijan – Independent Surface Designer
*Moderated by Heather Mullins – Relevant ReUse