Wen Liu
Security of Absence
Saturday September 16 - October 6, 2017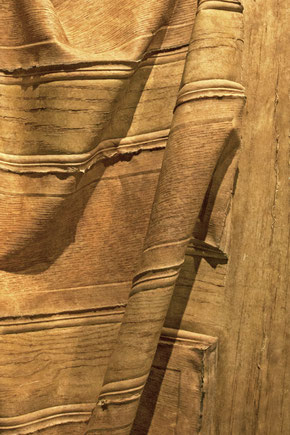 "Like all explorers, we are drawn to discover what's waiting out there
without knowing yet if we have the courage to face it"  (Pema Chodron)
In Security of Absence, Wen Liu's sculptures address loss and abandonment through the modification and assembly of found materials.  Wen started collecting reclaimed furniture and domestic objects to build her sense of belonging and security when she immigrated to the U.S.  The sculptural reinvestment of found objects and the temporal shift of traces from past to present are some of the qualities highlighted in her works.  These displacements imply narratives of absence and presence, as well as alienation and comfort.
Her works evoke a sense of bodily form.  Reproduction materials, like silicone rubber, act as a skin or shell, capturing a physical encounter with the reference object.  These processes, combined with found materials, set up a dialogue of human presence, subconscious insecurity, repeated consumption, and inevitable temporality.  Details in the works are a testament to lived time and memory - the sculptures wear history on their surface, the process of decay called 'aging' is built upon them.
- - - - - - - - - - - - - - - - - - - - - - - - - - - - - - - - - - - - - - - - - - - - - - - - - - - - - - - - - - 
Wen Liu was born in Shanghai, China and is currently based in Chicago. Her art covers multiple disciplines, drawing from her background in wearable art, fiber, and sculpture and explores the transformation from her cultural roots to newfound international consciousness.
She received her BFA in Sculpture and MFA in Fiber from China Academy of Art, and received her MDes in Fashion, Body & Garment from the School of the Art Institute in Chicago. Her work has been exhibited in the National Grand Theater in Beijing, China and at Woman Made Gallery in Chicago, IL and most recently a solo exhibition in Between Art Lab in Shanghai.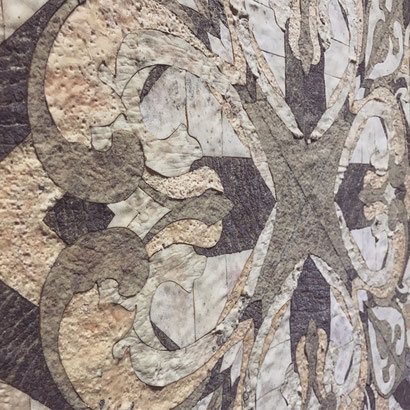 '113 Hours 56 Minutes' (detail)